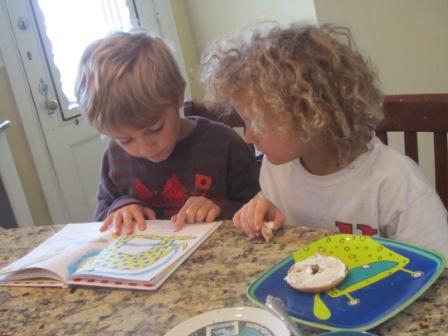 Meet Paudie
Pictured above is Jack's little brother Jude, the crazy-haired child on the right. On the left is Cian's little brother Padraig. These boys' sole connection is the fact that they both lost their older brothers to the same disease, neuroblastoma.
This July we were devastated to learn that Paudie also has neuroblastoma. For the past eight years, our friendship with Paudie's family has been the only silver lining in what would have otherwise been a giant cesspool of sadness. We held each other up and we became family. We celebrated our gains and mourned our losses. We spent holidays and vacations together. We were there when this child came into the world, and when he was followed by his younger brother and sister. We felt an instant kinship with this family, both from life circumstance, but also by our commonalities. Paudie's mom and I both grew up in rural parts and came to the big city as young ambitious women. Our guys were from similar backgrounds in England and Ireland and shared the same love for chocolates, football and dark beer. We came from the same value set and felt like we had always known each other, and maybe we had.
Please help us offer our support to this wonderful family by visiting any of the following sites:
https://www.giveforward.com/fundraiser/8h85/padraig-crowley-s-fight-against-neuroblastoma?utm_source...
https://www.facebook.com/groups/1442103382736490/
If you wish to make a larger gift and would like a charitable receipt, you can make it here to our Magic Bean account and add a note saying that it is for the Crowley Family Fund. September is Childhood Cancer Awareness Month and Paudie just celebrated his golden birthday, turning 7 on September 7th. In honor of him, and of all children who have battled and continue to battle this hideous disease, please offer your support.